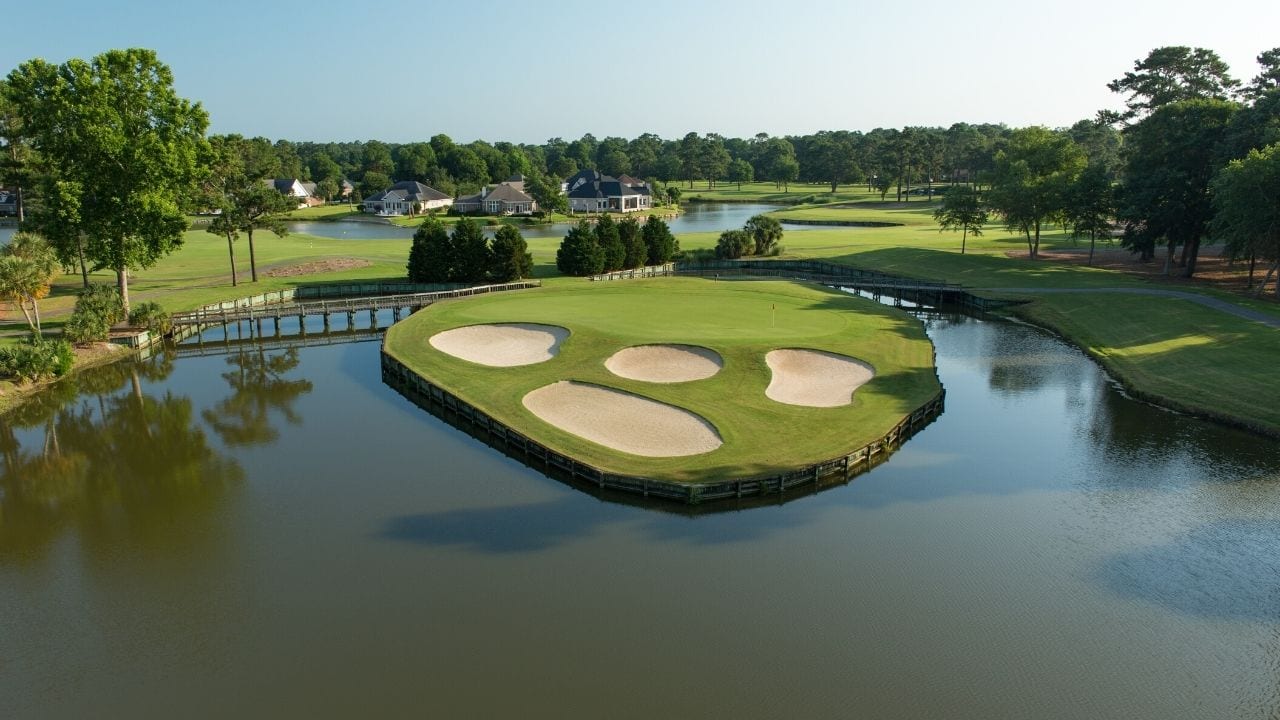 There are plenty of great reasons to visit Pawleys Island, from their magnificent beaches to wonderful restaurants and unique shops and boutiques. And since Pawleys Island is part of the Grand Strand, you can be assured that there are plenty of first-class golf courses in the area to challenge your game. When you're planning your next vacation to Pawleys Island be sure to pack your clubs and book a tee time (or five) at one of these fantastic Pawleys Island golf courses.
Caledonia Golf and Fish Club
Hailed as one of the finest public courses in the entire US, Caledonia has delighted golfers far and wide since its opening back in 1994. Legendary course architect Mike Strantz created a masterpiece out of the Lowcountry landscape and the former grounds of rice plantations, featuring sprawling live oaks and vibrant annual and semiannual blooms. Both Golf Magazine and Golf Digest have featured Caledonia on their annual top 100 public courses lists. After the turn be sure to stop by the shack between the 9th and 10th holes for a free cup of their famous seafood chowder. Packed with southern charm and world class course design, Caledonia is an absolute must play course on your Pawleys Island golf vacation!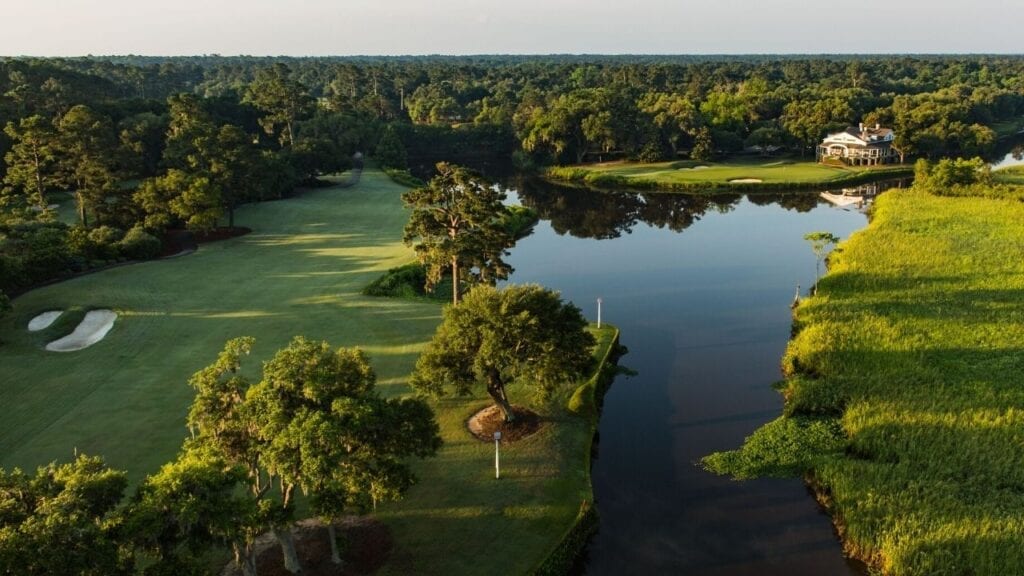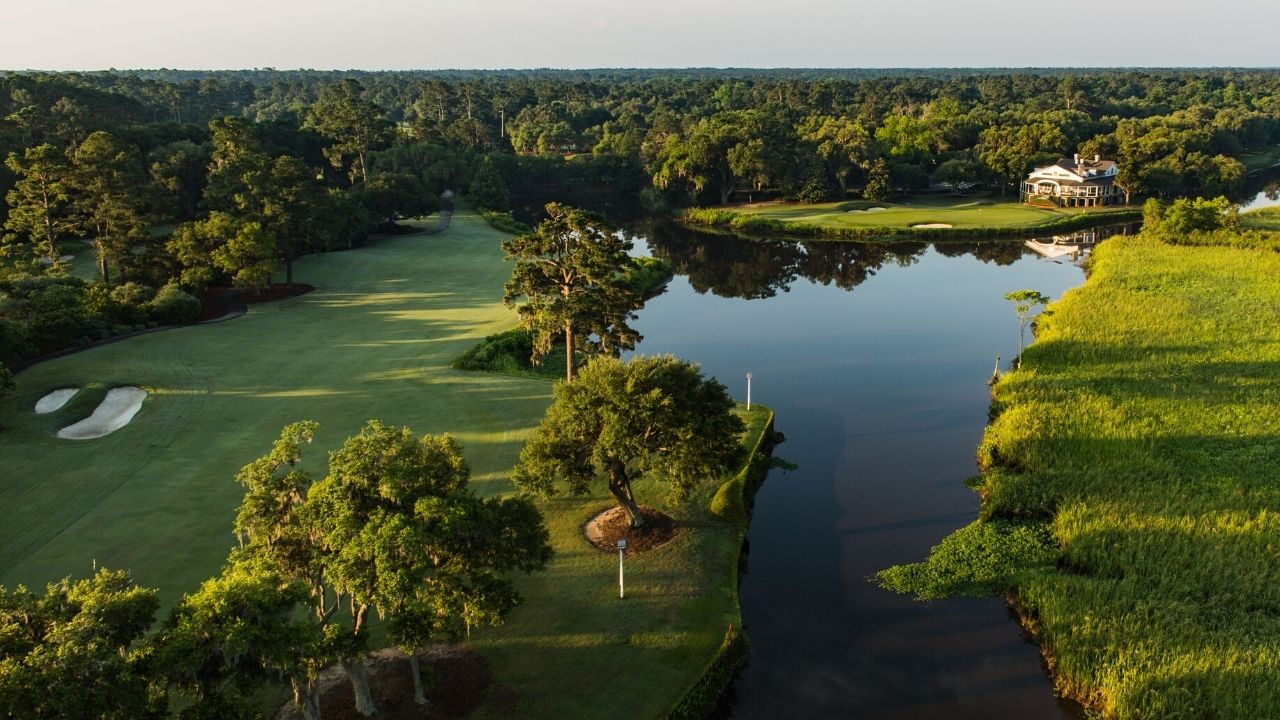 After playing the first Mike Strantz golf course along the Grand Strand, you're sure to leave ready for another crack at his unparalleled course architecture. Luckily True Blue Golf Club is here to make that happen! This magnificent course opened in 1998 and poses golfers with a 7,126 yard layout that is equal parts challenging and rewarding. True Blue has found itself listed prominently on Golf Magazine's list of top 100 public courses in the US. Strantz's trademark design capitalizes on the coastal Lowcountry landscape of Pawleys Island, with natural saltwater marshes, native grasses and live oaks coming into play on many holes. Be sure to prepare for the challenge of True Blue on their fantastic practice range, as all rounds come with unlimited range balls to get ready.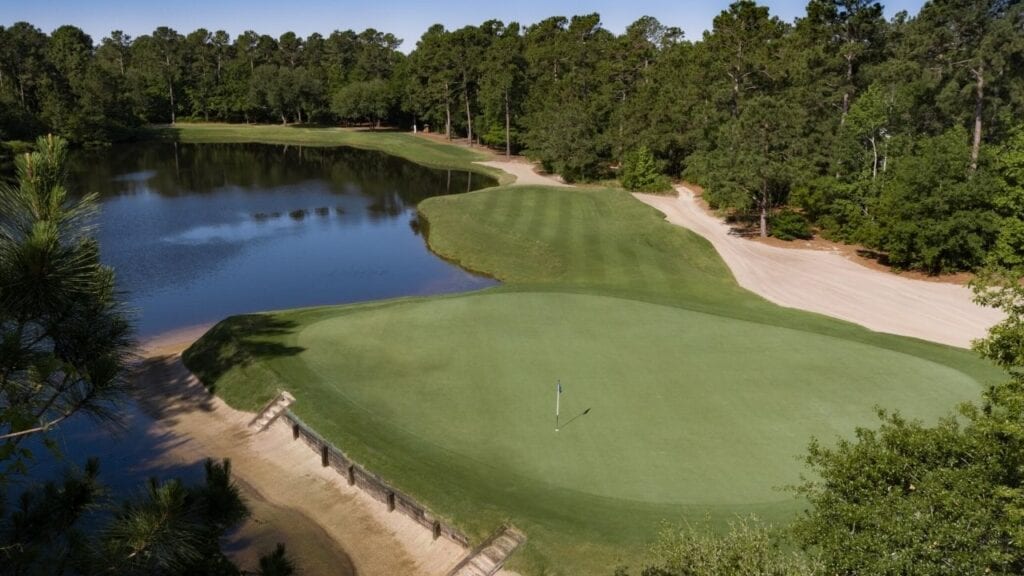 Pawleys Plantation Golf and Country Club
Why is Pawleys Plantation a can't miss course during your vacation? Does the name Jack Nicklaus mean anything to you? The Golden Bear supervised the design of Pawleys Plantation, sculpting this 7,026 yard course among saltwater inlets just inland from the Atlantic Ocean. As golfers continue their round, gentle (and sometimes not-so-gentle) sea breezes leave coastal grasses dancing in the wind and demand accuracy to avoid water and devilishly-placed bunkers. Since opening in 1988, Pawleys Plantation has been a frequent mention on top public course lists from Golf World and a four-star review from Golf Digest.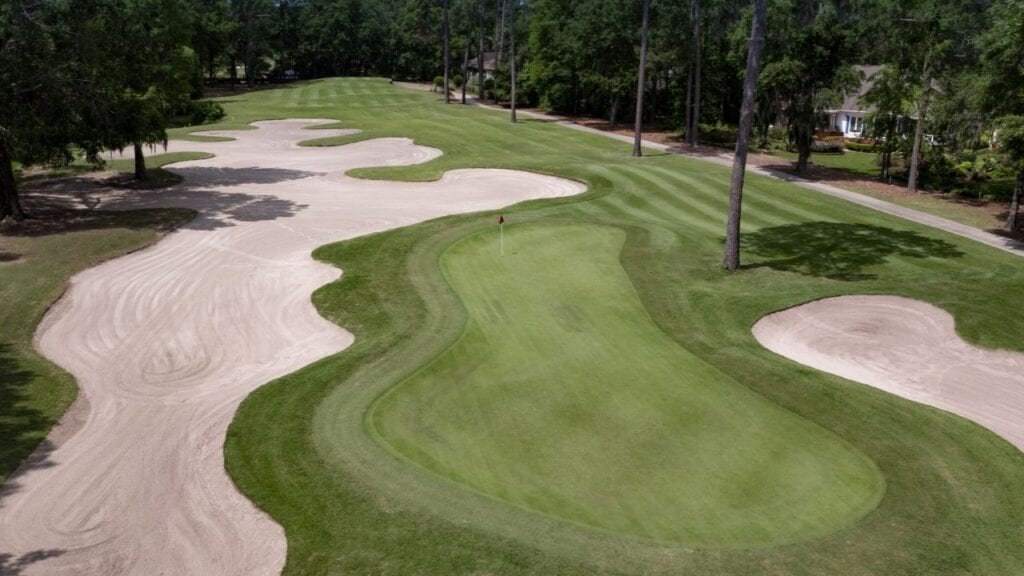 Hailed as the #7 golf course in South Carolina by GolfWeek Magazine, Heritage Plantation is one of the finest representatives of what coastal Carolina golf courses have to offer. Architect Dan Maples designed this 7,116 yard course, showcasing centuries-old live oaks, lush magnolia trees, freshwater lakes and saltwater marshes that ensure your round will be a memorable one. Water features creep into play heavily throughout the course, especially on the back nine, as a daunting three hole stretch on 12, 13 and 14 leads to a remarkable par 5 18th hole. Be sure to grab a bite to eat and a post-round cocktail at the clubhouse, regarded as one of the most visually stunning along the Grand Strand.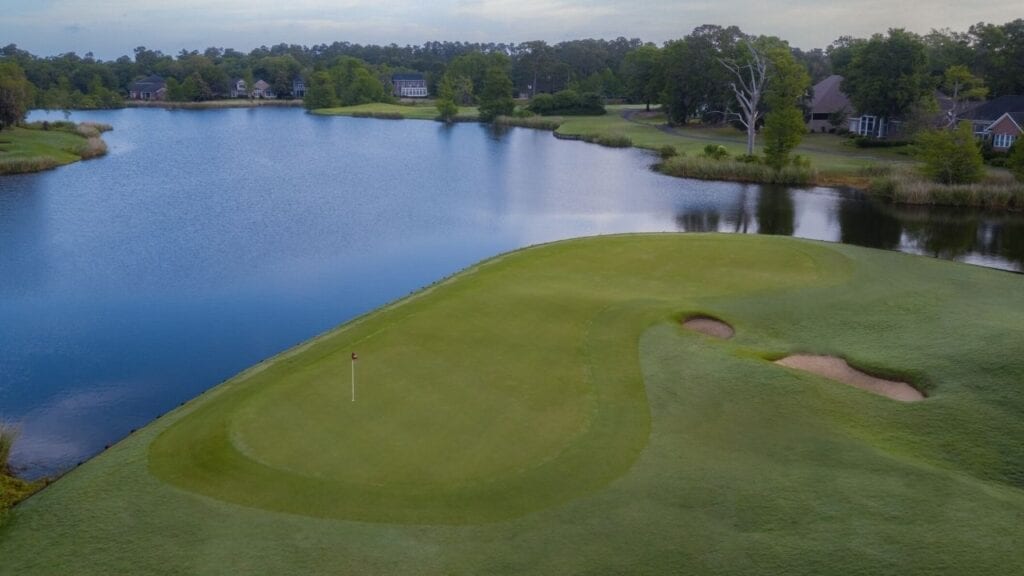 With a name like River Club, you might expect water to come into play, and that's exactly what architect Tom Jackson had in mind when he conceived this par 72, 6,700 yard course. The River Club will challenge your accuracy as water comes into play in 14 of 18 holes. Jackson also placed over a hundred bunkers throughout the course, demanding careful shot selection and rewarding well-placed shots. Golf Digest awarded River Club 4.5 stars, and we're sure you will also thoroughly enjoy a round or two at this fantastic Pawleys Island course.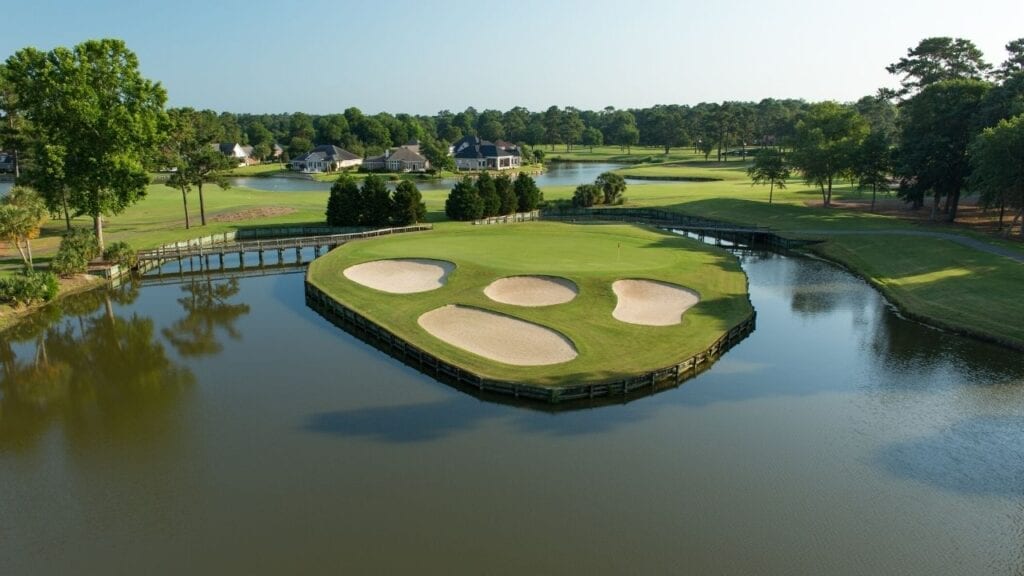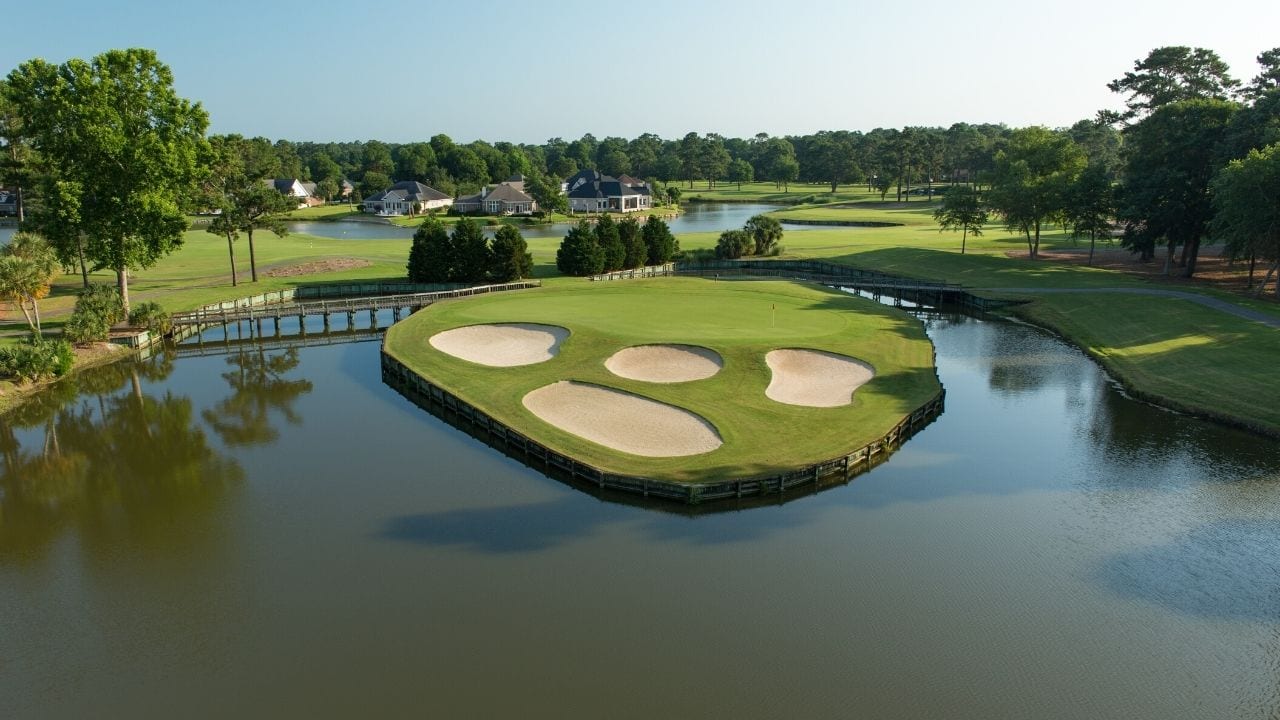 On top of these tremendous golf courses, dozens upon dozens of other great courses will be within a short drive during your golf vacation to the Grand Strand. And no matter the time of year, you can be assured that it's always a great time for a few rounds of golf along the Myrtle Beach area coast. Visit the accommodations page of The Litchfield Company website to browse our fantastic assortment of Pawleys Island condos at Litchfield Beach and Golf, Pawleys Island Resort, and True Blue Resort. We can help you book the best Pawleys Island vacation rentals for an unbeatable price in just a few minutes!