Stays that include the following days require a night minimum: Fri, Sat
Sorry, but the dates you selected require a night minimum stay. Please adjust your search and try again.
Win Big with the Vacation For Life Contest
Chauncey Smith | 06 Apr 2018
If you're like thousands of other fun-loving travelers, the warm spring weather probably has you dreaming of a trip to Myrtle Beach. After all, who doesn't love miles and miles of beautiful beaches, non-stop entertainment, nearly endless shopping and dining options, all within a few minutes of your condo?
It's no wonder why scores of travelers make a Myrtle Beach vacation a yearly tradition, and now with the Vacation for Life contest by Brittain Resorts and Beach Vacations, you can ensure that tradition continues for life, and best of all, for free!
Just imagine being able to plan a free trip to Myrtle Beach each year for the rest of your life, and all it takes is one entry into the contest! Just enter your name and email address and you're one step closer to a lifetime of complimentary vacations to Myrtle Beach!
If you're the lucky traveler to win the Vacation for Life grand prize, you will be able to enjoy a seven-night Myrtle Beach vacation at any of the partner properties within the Beach Vacations and Brittain Resorts and Hotels family! Whether you're thinking golf course accommodations like Barefoot Resort or Myrtlewood Villas or direct oceanfront condos at Caribbean Resort or Compass Cove, you get your pick from nearly two dozen partner properties to enjoy for a full week.
In addition to the grand prize of the Vacation for Life contest, Beach Vacations and Brittain Resorts and Hotels will also be giving away three free week-long Myrtle Beach vacations to any of their partner properties leading up to the grand prize drawing.
Entries must be received by October 31, 2018 and no purchase is necessary to enter the contest. Don't miss out on the chance to enjoy a free week-long trip to Myrtle Beach for the rest of your life! Enter the Vacation for Life contest today and begin dreaming of a lifetime of Grand Strand getaways at the area's best resorts.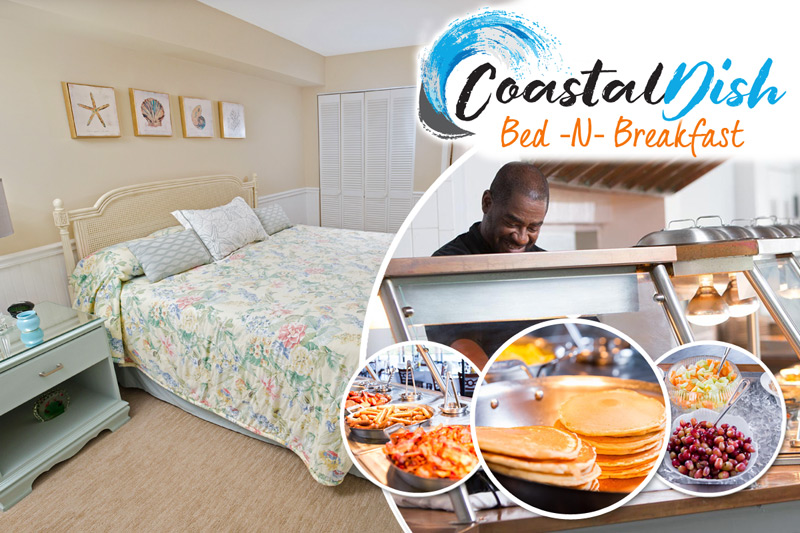 Coastal Dish Bed & Breakfast