The Myrtle Beach Marathon Returns For Its 20th Anniversary
Courtney Martin | 17 Jan 2017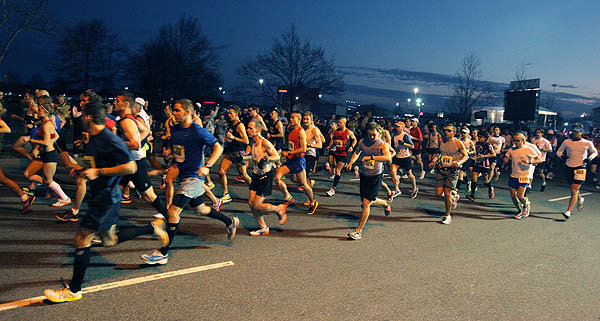 The time has come again to lace up those sneakers and prepare for the excitement and exhilaration that accompanies the Myrtle Beach Marathon! Back for its 20th Anniversary, the racing event is known for being one of the fastest and flattest in South Carolina and includes the Myrtle Beach Marathon, Half Marathon, Marathon Relay, Grande Dunes 5k and Family Fun Run! Join all of the fun from March 2 to 4, 2017, as runners from all over the world compete for a chance to claim the title of best on the beach!
The Myrtle Beach Marathon offers seasoned and trained runners the chance to qualify for the Boston Marathon under impeccable weather conditions and a fast, flat course. The races are open to everyone, with children under 18 requiring signed permission from a parent or guardian. Both the Marathon and Half-Marathon begin near the intersection of Grissom Parkway and 21st Avenue North in Myrtle Beach, South Carolina, and these two races will have their finish lines at the Myrtle Beach Pelicans Baseball stadium. The Grande Dunes 5k and the Family Fun Run will take place at Grande Dunes Resort. All participants must register online and sign a registration form in order to be eligible to compete.
Before setting off on your racing adventure, visit the Marathon Expo and Race Headquarters at the new Myrtle Beach Sports Center, located at 21st Ave N & Oak Street, Myrtle Beach, SC. The Expo is free and open to the public and will host marathon sponsors and merchandise vendors, who will have official Marathon merchandise for sale. The Expo will be open on Thursday, March 2, from 5 p.m. to 8 p.m. and on Friday, March 3, from 11 a.m. to 8 p.m.
The Grande Dunes 5k and Family Fun Run will take place on Friday, March 3, with the Family Fun Run getting things started at 5:30 p.m. and the 5k following shortly after at 7 p.m. Grande Dunes will host a post-race party from 6 p.m. to 8 p.m. and will feature live music, food, and beverages!
The Myrtle Beach Marathon and Half-Marathon will take place on Saturday, March 4, with runners taking off at 6:30 a.m. The Half-Marathon team relay will also begin at this time. After a long day of running, make sure to visit the House of Blues for its post-race party! This event is free to all registered participants of any Myrtle Beach Marathon weekend event and all volunteers ages 21 and up. There will be a $20 charge for guests and non-participants. Tickets will be available at the Expo. From 5 p.m. to 7 p.m., and the post-race party will include free food and drinks, as well as live music!
If you are planning to join in on the enjoyment of the Myrtle Beach Marathon, we have you covered for the most convenient and comfortable Myrtle Beach vacation rentals for your visit. With resorts located in close proximity to the race locations, check out all of our latest specials and allow us to host you during your stay. With our units, you will be able to experience the comforts of home after a tiring day at your race event.