Stays that include the following days require a night minimum: Fri, Sat
Sorry, but the dates you selected require a night minimum stay. Please adjust your search and try again.
Litchfield Beach Resort and Medieval TImes
Litchfield Beach | 08 Nov 2015
'My family and I planned a trip to Myrtle Beach for a couple weeks in August and we stayed at the beautiful Litchfield Beach in Pawley's Island. We booked a Friday night reservation for Medieval Times and everyone loved it! Our friends from home took their family to Medieval Times last year and encouraged us to purchase the "Kings Royalty Package" that gave us front row seats. The show was amazing! I'm glad we bought the package because my children got VIP treatment the whole night', said Cheryl from Ohio.
When guests arrive, they are seated in a section representing one of the six knights for whom they will be cheering on. The knights are: The Green Knight, The Yellow Knight, The Red Knight, The Red & Yellow Knight, The Blue Knight and The Black & White Knight.

Each valiantly fights for his cause – ridding his world of foes – while riding on Andalusians. The Spanish horses, prized since the 11th century for their humility and ability, take on the weight of a full suit of armor without flinching and while galloping elegantly.

The Andalusians featured at Medieval Times are specifically bred and trained to be the exemplary stars they are in the production, which uses real swords.

Of course, the tournament is heightened in its appeal because of the delicious dinner guests enjoy while viewing the live-action drama. The feast consists of focaccia bread, tomato bisque, oven-roasted chicken, one extraordinarily tasty barbecue rib, a potato seasoned with herbs, an apple strudel and beverages of choice.

It is high-energy fun and wonderful eating anyone of any age can enjoy.

CHeryl also said, 'the 30 minute drive is very well worth it, you and your family will be talking about it the entire drive back to Litchfield Resort.'
As a guest of Litchfield Beach Resort, make sure to check out Medieval Times for a dinner show like no other while on vacation here in Myrtle Beach.
Things to know before you go:
What: Medieval Times
Where: 2904 Fantasy Way, Myrtle Beach, S.C. 29579
When: Show times vary. Call for details.
Cost: Prices for 2012 are: Adults, $50.95 (plus tax and processing fee) and Children, 12 and under, $30.95 (plus tax and processing fee).
Information: Call 866-543-9637 or visit http://www.medievaltimes.com/myrtlebeach.aspx
Directions: Start going out southwest on North Ocean Boulevard. Take the first right onto 52nd Ave. N. Take a left onto North Kings Highway/U.S. 17 Business. Turn right onto 38th Ave. N. Turn left onto U.S. 17 S. Merge onto U.S. 501 N. towards Conway. Take the River Oaks Drive/George Bishop Parkway exit. Turn right onto U.S. 501/Waccamaw Boulevard. Stay straight to go onto Fantasy Harbour Boulevard. Take the first left onto Backstage Blvd. Take the first right onto Fantasy Way. Medieval Times is on the right.
Posted 12/11/12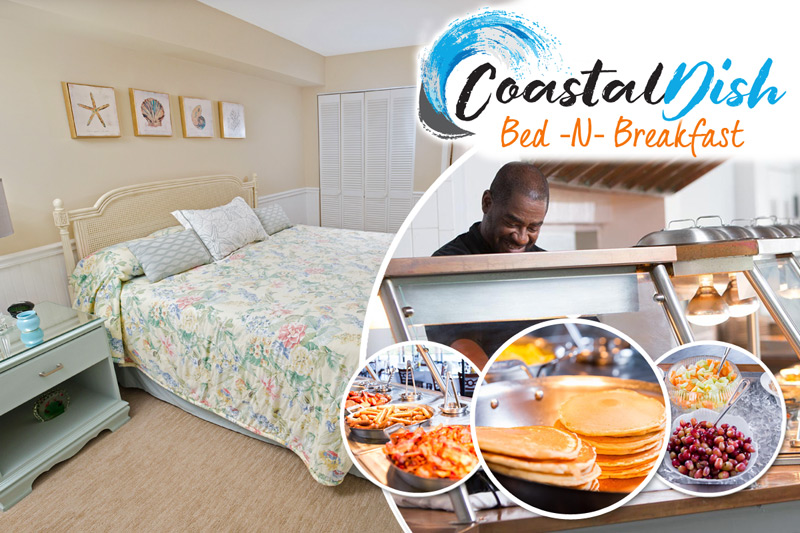 Coastal Dish Bed & Breakfast