Having Fun While Staying Safe: Beach Regulations
Courtney Martin | 15 Aug 2016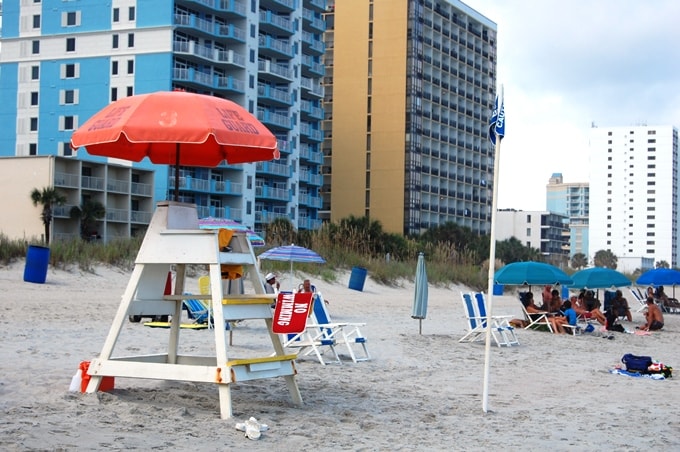 There is nothing quite like a sunny, hot day on the beach lying on a towel under the bright blue sky. It's at times like this that we wish to relax and enjoy the serenity of the ocean and the beauty of nature. At other times, we want to throw footballs, make diving catches in the sand, and splash amongst the salty waves, fulfilling our adventurous side. No matter our motivation for a beach visit, it is always important to stay up-to-date on safety regulations during your trip.
Although the rules and regulations vary in minor ways from city to city, the following list covers most of the basic regulations you should expect when spending time on the beaches of Horry, Georgetown, and Brunswick Counties.
With regards to litter and the environment:
Littering is prohibited on all local beaches and on the ocean, as is the use of glass containers in both Horry and Georgetown counties.
It is illegal to build a fire or use a propane-fired grill or other cooker on the beach.
It is illegal to cut, break or otherwise destroy sea oat plants, beach grass, and sand fencing
Discharging of fireworks is illegal within the city limits of municipalities along the Grand Strand. All establishments that sell fireworks within Horry County are required to post in a conspicuous location rules and regulations regarding fireworks.
Regarding camping, tents, etc.:
As of 2010, the city of North Myrtle Beach adopted a number of regulations as to what size and type of beach tent can be used on its beaches. Other areas have also passed or are considering passing similar laws, so it's like best to adhere to guidelines similar to these if you're planning to use a beach tent.
Sleeping or camping on the beach is prohibited between 9 p.m. and sunrise each day in Horry County and between midnight and sunrise in Georgetown County.
Please be courteous of all other visitors around you. Do not play loud music, smoke or drink nearby if you're likely to offend your neighbors.
Harassment or other mistreatment of fellow beachgoers may be subject to fines by local law enforcement.

When considering boating and other vehicles:
It is illegal to use any boat, watercraft of recreational equipment in a manner that would endanger bathers, swimmers, surfers, or others in the water.
No motor vehicles are allowed on the beach or within public marsh areas in both Horry and Georgetown counties.
Sailboats, motorboats, Jet skis and other personal watercraft must remain at least 400 feet from the shoreline and 500 feet from any fishing pier, with the exception of entering or exiting the ocean.
Sailboats, motorboats, and Jet skis may not be launched or retrieved within 50 yards of a lifeguard stand, unless otherwise designated.
Only canvas rafts may be used in the ocean. Rafts must be equipped with safety ropes.

Regarding Pets/Animals:
Dogs on the beach must be leashed at all times in Myrtle Beach and North Myrtle Beach. In Myrtle Beach, dogs must be leashed at all times.
From May 1 through Labor Day, dogs are not allowed on the beach between 10 a.m. and 5 p.m.