Stays that include the following days require a night minimum: Fri, Sat
Sorry, but the dates you selected require a night minimum stay. Please adjust your search and try again.
Guests of Litchfield Beach Resort can enjoy the high-octane entertainment of Legends In Concert
Litchfield Beach | 08 Nov 2015
You are allowed to pick the kind of accommodations that best fit your personality at Litchfield Beach and Golf Resort. If you prefer to wake up to waves rolling onto the shore, oceanfront dwellings will best suit you. If you adore golf, then lodging on a golf course would be a natural choice. After all, this is your vacation and you should spend it as you please. The bottom line is, though, within the 600 acres at this Pawleys Island resort, choices are never short in supply.
You can spend your day spoiling yourself in the resort's full-service spa. Or you may choose to take to the golf course. Perhaps, you want to stay inside your cozy suite, condo, villa or house and enjoy your favorite movie or read a good book while looking out at the lake.
However, if you want to experience more energized fun, Legends In Concert in Myrtle Beach may be the ticket for you.
You will undoubtedly be amazed when some of the greatest celebrity tribute artists take to the stage looking like, sounding like and acting like the very stars they portray.
Celebrity impersonators scheduled to appear at the Myrtle Beach location of Legends In Concert for the remainder of 2012 include Elvis Presley, Alan Jackson, Bobby Darin, Little Richard, Celine Dion and the Blues Brothers.
Garry Moore, a native of Japan, who is a self-taught musician, portrays Little Richard, according to http://www.legendsinconcert.com/ the o,fficial Legends In Concert website. Moore even had the opportunity to perform with Little Richard, one of the originators of rock 'n' roll.
Moore got into the artist tribute business after seeing a Sammy Davis tribute artist perform in a Legends show in the 1980s. He said the performer embodied Davis.
Before Moore knew it, he was getting accolades for performing as Little Richard. Moore will be impersonating Richard during October at the Legends in Myrtle Beach.
Art Vargas, who impersonated Bobby Darin, is also going to be performing at there this month. Vargas, who grew up in Detroit, was approached by a representative of Legends and later auditioned to portray Darin. He has been taking his act beyond the sea ever since.
From November through December, the holiday show at Legends will feature celebrity impersonators of Elvis Presley, The Blues Brothers, Celine Dion, Alan Jackson and Johnny Mathis.
Legends In Concert, formerly in Surfside Beach, is now located at Broadway at the Beach, next to Planet Hollywood.
If you go:
What: Legends In Concert
Where: 2925 Hollywood Dr., Myrtle Beach, S.C. 29577
When: Each show starts at 8 p.m., but dates vary. Call for details.
Tickets: Regular ticket prices start at $14.95, while adult tickets start at $37.95.
Information: Call 843-238-7827, 800-960-7496 or visit http://www.legendsinconcert.com/locations/myrtle-beach/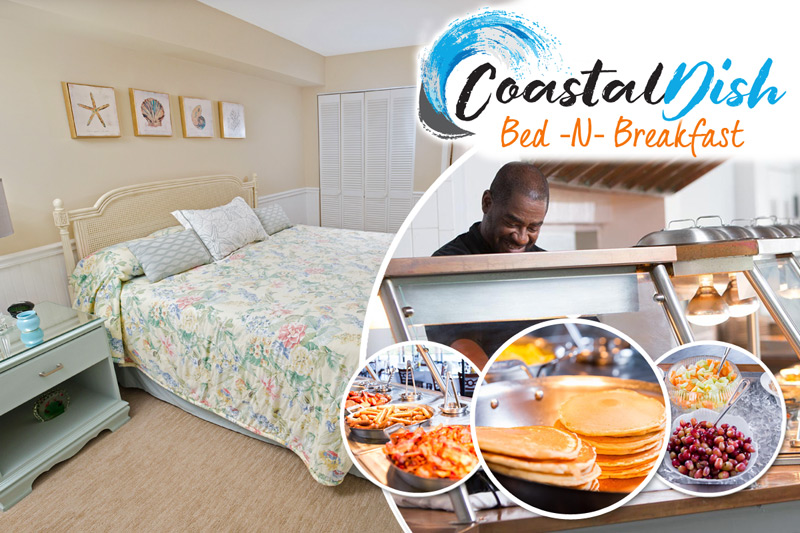 Coastal Dish Bed & Breakfast