Stays that include the following days require a night minimum: Fri, Sat
Sorry, but the dates you selected require a night minimum stay. Please adjust your search and try again.
A Day to Remember Host Your Next Wedding or Special Event at Litchfield Beach And Golf Resort
Litchfield Beach | 08 Nov 2015
Here at Litchfield Beach & Golf Resort, our goal is to provide you with a vision and to help that become a reality for your special event of a lifetime.
Let us cater to your every need here at Litchfield Beach & Golf Resort. We help make planning your wedding or event a fun and simple process by providing in-house food, drink, setup and location. We can also recommend a variety of local vendors including photographers, dj's, bands, cakes, flowers and so much more. This truly is helpful when planning the perfect event.
With so many on-site amenities available, having your event at Litchfield Beach & Golf Resort is the ideal location for you and your out-of-town guests. While your special event is going on, your guests can enjoy not only the natural beauty of Litchfield Beach, but they can also enjoy a large variety of fun and relaxing amenities. Whether you and your guests want to golf, play tennis, enjoy a spa treatment, or simply hang out at the pool, your guests will enjoy every moment of the event. Your guests don't even need to leave the resort to have a fun-filled and relaxing stay.
Although you cannot have your wedding or special event directly on the beach, we offer two exceptional venues at which to have your special event.
First, you can choose to host your event at Litchfield Country Club's plantation style building or on the Country Club's appealing ceremony lawn. Located on the west side of Ocean Highway in Litchfield Beach, this venue is home to the majority of weddings and events that come to our resort. The clubhouse overlooks a sprawling and majestic golf course, and is only a quick drive for all of your guests. If you are having a large wedding, this location can seat 200 guests for a seated buffet or plated dinner or 250 guests for heavy hors d'Oeuvres. What could be better than having a ceremony at a Southern style plantation home? This venue will take your guests' breath away if you choose to book at the Litchfield Country Club.
If you are looking for a stately venue directly on the main resort, the Tara Ballroom & Patio is the perfect solution for an indoor or outdoor reception. If you are looking for a plated or buffet dinner, the Tara Ballroom & Patio can seat 150-180 people ahead. If you want heavy hors d'Oeuvres, we can accommodate up to 300 guests. This venue is perfect for those who may be attending and do not have a car or transportation to drive around Litchfield Beach.
Fulfill your lifetime dream of hosting the ultimate event or wedding at the beach here at our resort. Our team is fully committed to providing you with a day you and your guests will never forget. If you are interested in learning more about having your next event or wedding at Litchfield Beach & Golf Resort, contact our sales office at 1-843-235-5591 or toll-free at 1-800-845-1897 ext. 5591. You can also email us at weddings@litchfieldbeach.com with any questions that you may have!
Posted 2/20/13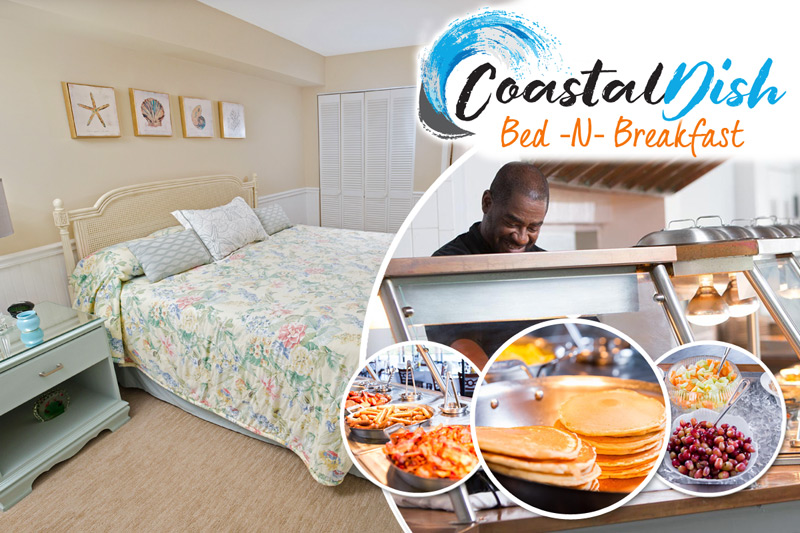 Coastal Dish Bed & Breakfast