2015 Georgetown Wooden Boat Festival
Chauncey Smith | 24 Sep 2014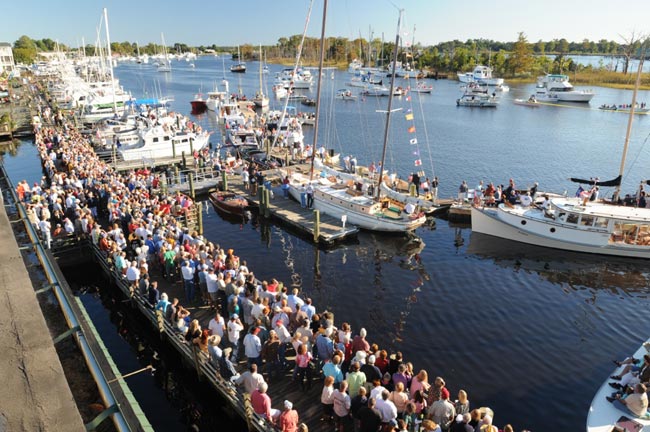 Set sail for the 2015 Georgetown Wooden Boat Festival, taking place on October 17th and 18th in historic Georgetown. A short drive south from Pawleys Island will connect you with the quaint waterfront town, home to a gorgeous waterfront village and a gathering of over 140 classic wooden boats during the festival.
Recognized as one of the best festivals in the region by the Southeast Tourism Society, this year marks the 25th anniversary of the event. Spectators will be able to view pristine examples of the artistry of these unique watercraft, with models ranging from kayaks and canoes to outboard motor and sail boats. You're even sure to witness some vessels completely designed and built from scratch by their owner.
The festival lasts from 11 AM to 6 PM on Saturday with exhibitions and arts and crafts vendors throughout the Georgetown waterfront district. There will also be a shipbuilding competition, giving competitors a four-hour time limit to construct a skiff for a relay race down the Sampit River. Kids are sure to have fun with the knot tying and model boatbuilding exhibits open to them. There will also be a hospitality tent serving up concessions and music will be provided by The V-Tones of Charleston and The Blue Plantation Band. The exhibits will also be open on Sunday from noon to 4 PM, with a special "Master Builder" boatbuilding competition where past winners will have to utilize their creativity to concoct a seaworthy vessel within a time limit of four hours. There will also be a brunch complete with Bloody Marys and Mimosas at the SC Maritime Museum.
The condos at True Blue Resort make for perfect accommodations for a weekend getaway to enjoy this unique celebration! Make sure to mark your calendars and get down to Georgetown for the 25th annual Georgetown Wooden Boat Show!